*This post was sponsored by JTV.com. I was paid for this post and received JTV.com jewelry pieces as compensation.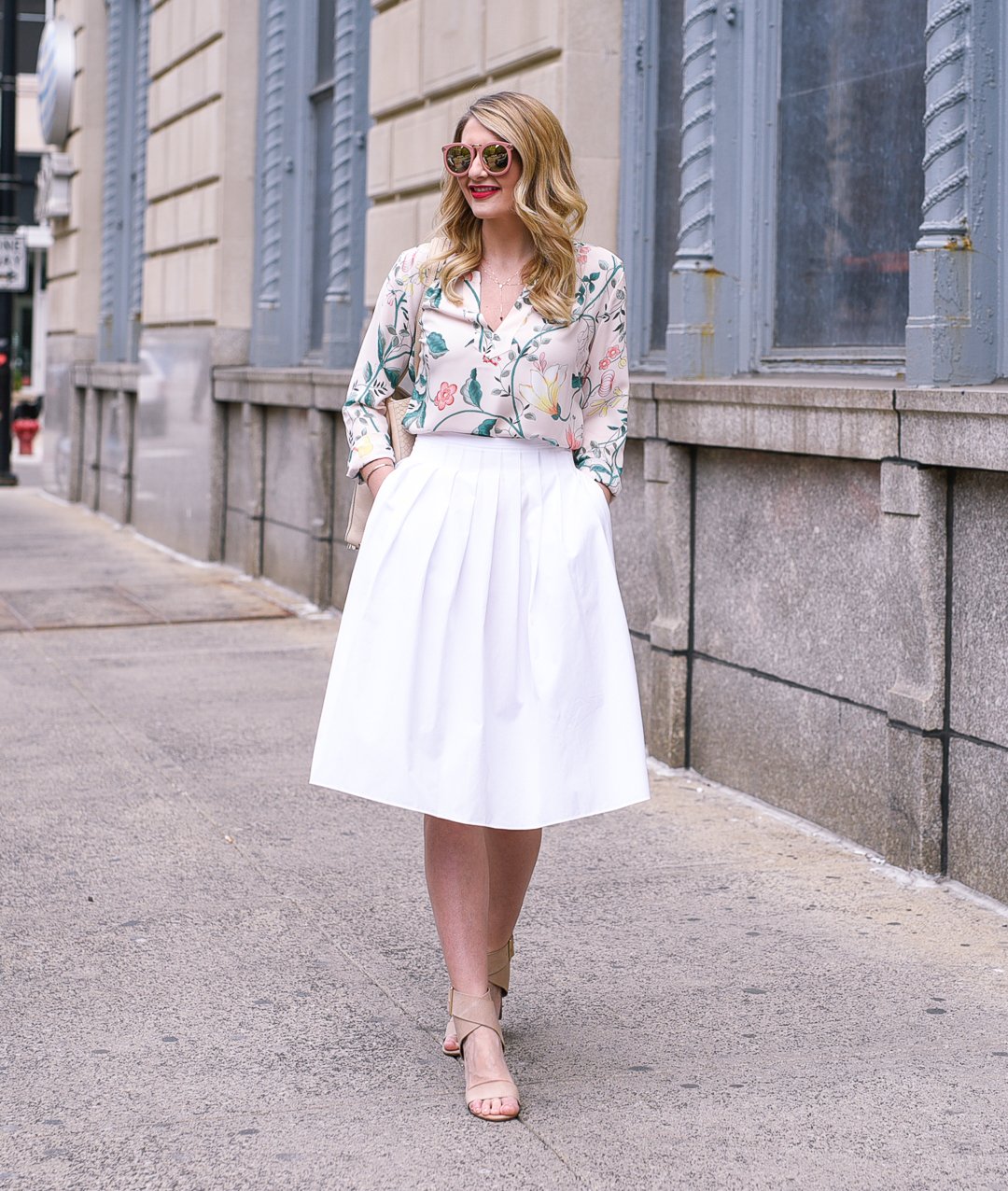 JTV.com Emerald Earrings | JTV.com Gold Necklace | JTV.com Emerald Bracelet
Can you tell I'm excited for spring? Even though it's been a little chilly here in Chicago lately, I broke out this midi skirt and floral print shirt a few weekends ago. I'm dying for all things floral lately. Have you seen the number of posts I've done lately with floral dresses (here and here)? With fun prints, I like to dress up my jewelry on occasion too. The green vines in this top were too fun not to play off of with this JTV.com jewelry.
To this point, I don't think I've ever owned anything emerald. My jewelry collection has, for the most part, been pretty low end to be honest. When browsing JTV.com's earrings page, I spotted these emerald hoops. They were so gorgeous I kept coming back to them. After I'd combed through every page, I was still thinking about them. I knew I needed them!
Since the earrings are making quite the statement, I wanted to keep the jewelry around my neck simple. I picked out this delicate gold necklace to achieve that. I'm wearing it here with an outfit that would be perfect for daytime – even for work. However, this necklace would be so perfect for a night out too. It still lets you pair it with statement earrings but also lends itself well to a variety of necklines in terms of tops. Can you visualize this necklace with a black camisole with a plunging neckline? Hello date night! Check out all of their other necklaces here!
I always like to balance my outfits. That means, I like to have at least 2 of something in an outfit because then it looks like it belongs. Therefore when it came to bracelets, I picked out this emerald one to incorporate a little color away from the face.
As I mentioned above, this outfit is perfect for the office or for weekend brunch. However, if you paired this emerald jewelry with your going out outfits, they would be elegant pops of color to look super classy. These are the types of pieces you could also wear to a wedding this summer! I can spot at least 5 dresses from my Friday Five on Wedding Guest Style that would accent these emerald pieces perfectly!
*My blog may contain links to other websites. I am not responsible for the privacy policies of those other websites. When you click on a link, your information may be collected by those websites so I encourage you to read their privacy policies.
*Affiliate links are not associated with JTV.com